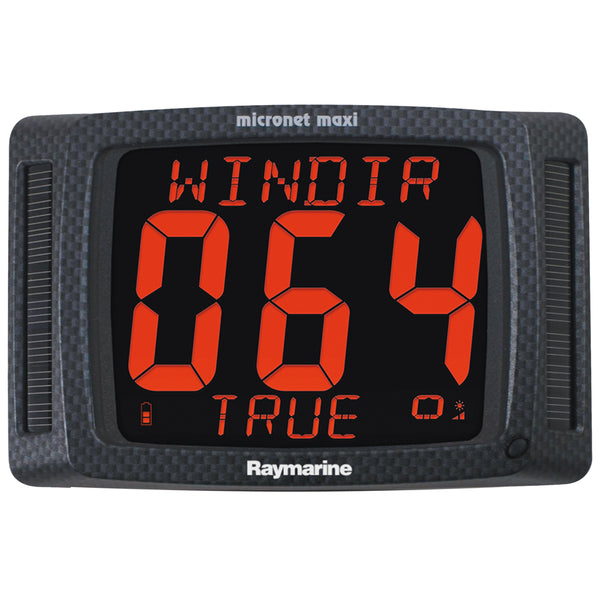 Curated By Our Captains
We test/know our products
Low Price Guarantee
We will beat all competitors
Contact a Raymarine Specialist
Monday - Friday | 8:30AM to 6PM EST
Raymarine T210 Multi Maxi Display
$1,36499 USD

$1,364.99 USD
Description
T210 Multifunctional Wireless Instrument Display by Raymarine . The Raymarine T210 Multi Maxi Display is a mast display designed for racing yachts with high contrast, super-large digits 50mm (2 inches), providing highly visible and accurate data in all conditions from anywhere on your boat. The black background ensures minimal disturbance to your night vision and the red and amber backlight options allow you to select a different colour for different data displays.
Features
A typical installation can be done in just a few hours, with your rig in place and your boat still in the water. And there's no need for holes in the bulkhead or wires down the mast
The elimination of wires in the mast not only reduces spar weight but also lowers the boat's centre of gravity, giving significant and immediate performance advantage
All Raymarine Wireless products are sealed for life and completely waterproof (submersible to 10m). This also means no condensation
Raymarine Wireless displays are solar powered with integrated lithium batteries that power the unit for life. Power consumption is so efficient that units can run autonomously for up to 300 hours
Using clip-in cradles, your display can be placed anywhere on your boat, allowing you to view the information where and when you need it
The Remote Display of the Raymarine T210 not only provides you with additional performance data and graphing pages to monitor trends but is also essential to control and configure your Maxi Displays from anywhere on your boat.
---
We Also Recommend