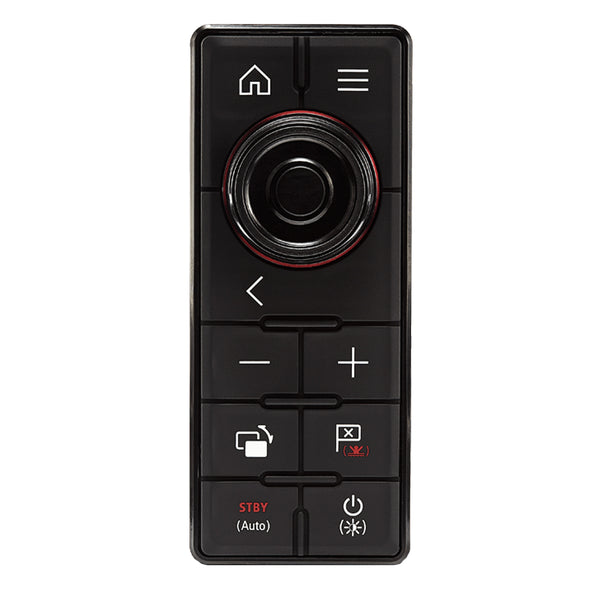 Curated By Our Captains
We test/know our products
Low Price Guarantee
We will beat all competitors
Contact a Raymarine Specialist
Monday - Friday | 8:30AM to 6PM EST
Raymarine RMK-10 System Remote Control Portrait Keypad
Description
RMK-10 Portrait Remote Control (A80438) by Raymarine. The new Raymarine RMK-10 Remote Keypad is an ultra-compact wired keypad accessory that provides full control of aSeries, cSeries, eSeries, eS Series and gS Series Multifunction Displays (MFDs) from any mounting location.
Features
High quality at an affordable price
Expertly made from premium materials
Built to match your exact requirements
Specifications
PoE class: Class 1
Nominal supply voltage: 12 / 24VDC
Operating voltage range: 10.8VDC to 31.2VDC
Power consumption: 3.84 W
Operating temperature: -25°C to +55°C (-13°F to 131°F)
Storage temperature: -30°C to +70°C (-22°F to 158°F)
Relative humidity: Maximum 75%
Waterproof rating: IPX6
Network / power: 1 x RayNet connector (gS Series - 1000 Mb/s plus PoE) (aSeries , cSeries, eSeries - 100 Mb/s)
Alternate power: 1 x power connector
Includes
Keypad
Portrait keypad mat
Mounting gasket
4 x mounting fixings
Documentation pack
Right angled power cable 2m (6.6')
RayNet network cable 2m (6.6')
NEW RMK-10 Remote Keypad
The fully backlit RMK-10 includes dedicated keys for home, menu, zoom in/out, window control, waypoint management, power/brightness, as well as Evolution autopilot control.
RMK-10 also features the same multifunction rotary controller with the integrated cursor pad found on eS Series multifunction displays.
The RMK-10 can be surface-mounted or flush-mounted, and is available with key mats for horizontal or vertical installation. This gives you the flexibility to install the RMK-10 just about anywhere.
---
We Also Recommend