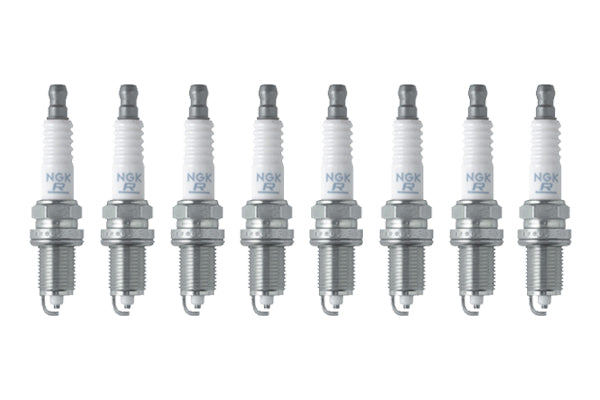 Curated By Our Captains
We test/know our products
Low Price Guarantee
We will beat all competitors
Contact a USP Marine Specialist
Monday - Friday | 8:30AM to 6PM EST
NGK OEM Spark Plug Kit for V8 4.6L 200-450HP Verado Engines (Set of 8)
Description
Spark plugs are responsible for providing an ignition source inside your engine's combustion chamber. Energy is transferred from the ignition coil to the plug which creates a spark igniting the air-fuel mixture. 

Our technicians and Mercury recommends replacement at the 300-hour service maintenance interval. 
NGK Fine Wire Platinum Tipped Center Electrode ensures higher durability, deliver slow wear rate, stable spark, superior anti-fouling, improved fuel efficiency and lower emissions

This spark plug meets Mercury Marine original equipment manufacturer specifications to best protect your engine and ensure its optimum performance

Check your engine owner's manual for the correct spark plug and use only the plug as recommended by your engine's original equipment manufacturer

NGK Trivalent metal plating also provides superior anti-corrosion in the marine environment and anti-seizing for easier removal

Longer service life with a copper core and ribbed suppressor seal for durability and performance
Sold as set of 6 spark plugs. 
Manufacturer Part #: NGK LKAR7C-9
Direct Replacement for OEM Part #: 
33-8M0135348

8M0135348

8M0204737

8M0135348
Fits The Following Engines:
Mercury Verado Pro XS V8 4.6L 200
Mercury Verado SeaPro V8 4.6L 225
Mercury Verado Pro XS V8 4.6L 225
Mercury Verado SeaPro V8 4.6L 250
Mercury Verado Pro XS V8 4.6L 250
Mercury Verado V8 4.6L 250
Mercury Verado V8 4.6L 300
Mercury Verado Pro XS V8 4.6L 300
Mercury Verado SeaPro V8 4.6L 300
Mercury Racing Verado V8 4.6L 250R
Mercury Racing Verado V8 4.6L 300R
Mercury Racing Verado V8 4.6L 450R
---
We Also Recommend