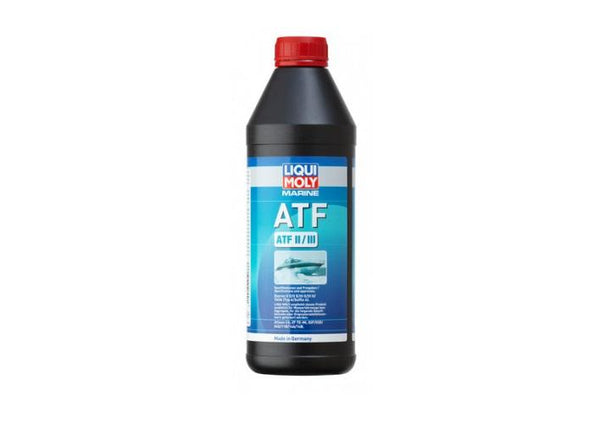 Curated By Our Captains
We test/know our products
Low Price Guarantee
We will beat all competitors
Contact a Liqui Moly Specialist
Monday - Friday | 8:30AM to 6PM EST
Liqui Moly Marine ATF Oil
Description
For drives and transmissions such as reverse gears, power steering, control systems, trimming systems, hydrostatic transmission ratios and hydraulic and mechanical systems that require the use of an ATF oil. It cannot be used where GL4 or GL5 oils are specified.
Fully synthetic ATF oil specially developed for the marine sector. It offers increased corrosion protection and minimize wear compared with conventional ATF oils. The high thermal stability and excellent protective properties give it optimum resistance to aging with maximum safety reserves. Compatible with all sealing materials.
Specifications And Approvals
Dexron II D
Dexron II E
Dexron III G
Dexron III H
Dexron TASA (Typ A/Suffix A)
Liqui Moly also recommends this product for vehicles or assemblies for which the following specifications or original part numbers are required:
Allison C4
ZF TE-ML 02F
ZF TE-ML 03D
ZF TE-ML 04D
ZF TE-ML 11B
ZF TE-ML 14A
ZF TE-ML 14B
Application
The specifications and instructions from the assembly or vehicle manufacturer must be followed.
Gear Oil Approvals
Dexron II D, Dexron II E, Dexron III G, Dexron III H, Dexron TASA (Typ A/Suffix A)
Allison C4, ZF TE-ML 02F, ZF TE-ML 03D, ZF TE-ML 04D, ZF TE-ML 11B, ZF TE-ML 14A, ZF TE-ML 14B
---
We Also Recommend